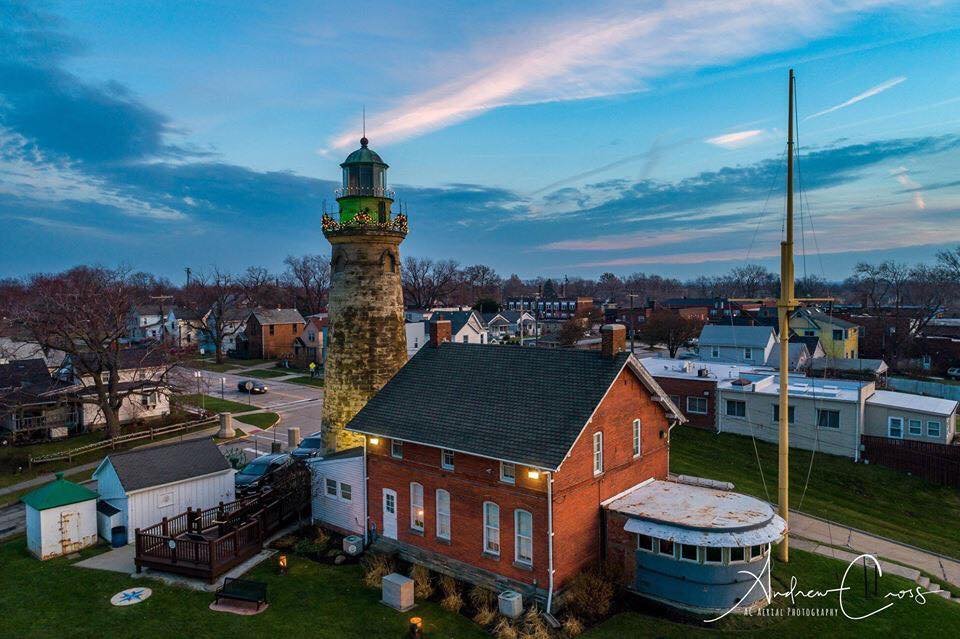 Welcome to Fairport Harbor
Fairport Harbor, Ohio is a beautiful harbor town located on Lake Erie at the mouth of the Grand River.  Fairport Harbor is home to two historic lighthouses, two museums, a charming sheltered beach with a boardwalk, unique shops, award winning restaurants and Airbnb accommodations, all within walking distance of one another.   Don't miss the gorgeous sunrises and spectacular sunsets.   We invite you to experience why "Life is Better in a Beach Town".
Fairport Harbor Tourism Council is a 501c3 public charity and our mission is to enhance the economic development of Fairport Harbor and the quality of life of its residents by promoting the Village's unique heritage, recreational opportunities, businesses, events and natural resources through tourism.
Boat • Eat • Play • Shop • Stay
BOAT
Fairport Harbor is an ideal location on Lake Erie and the Grand River for boating, canoeing, kayaking and personal watercraft.  The Fairport Harbor Port Authority has 4 lanes for boats to launch and also  a area to launch a jet ski.  Transient docking is available by the day, week or season.  Boaters can dock here for the day and visit the museums, shop in our specialty shops and have a meal at one of the restaurants; all just a short walk for the dock.  Fish for Walleye, Perch and Steel-head trout from the fishing pier.  We have a sheltered harbor with the west break water making this a great area to canoe, kayak or paddleboard. Small fishing Boats, canoes and kayaks can be launched from LMP Grand River Landing on the Grand River.   This is a beautiful area to fish, picnic and relax. 
EAT
Fairport Harbor has a great selection of places to enjoy a meal or snack and coming soon pastries and adult milkshakes.   Fairport Harbor has the only lakefront dining in Lake County, as well as, award winning small plate and family dining options.   Hungry for pizza, pasta, burgers, wings and more, you will find it in our beach town.
PLAY
Fairport Harbor is a gem on Lake Erie with a boatload of things to do.   We have two lighthouses, two museums, a beautiful beach for picnicking, sunbathing swimming, kayaking, paddleboarding, boating, jetskiing, specialty shops, great restaurants,  an annual summer outdoor art exhibit, events such as the Mardi Gras, summer concerts, Harbor Holidays!  We have it all,  that is why "Life is Better in a Beach Town".
Shop
Everyone loves to shop.  Fairport Harbor has several specialty shops that offer a variety of unique items from repurposed furniture, art work, personal etch gifts, Ohio wines and wine tasting, an art studio/gallery opening soon, organic teas, spices, lotions, Finnish gifts and foods, two museum gift shops.   We are a walkable village with a downtown area where you can park a stroll from shop to shop.
STAY
FHTC invites you to experience "Life is Better in a Beach Town" for a day, weekend or a week or two.   Several Air B n B rentals are available.     This rental home that will sleep six is across the street from our historic lighthouse and the beach is just down the hill.  It is next door to and award-winning restaurant.  Harborview Townhouses also sleep six. These lovely units overlook the harbor and beach.  Walk out your door and down the hillside stairs and you are on one of the most beautiful beaches on Lake Erie.  Shops, restaurants, museums are within walking distance. 
Historic Tours
Step aboard and travel through the streets of Fairport Harbor Village. Our eight passenger electric car provides a quiet easy access ride with a tour guide who will share the story of our history, points of interest, cultures & landmarks of our unique harbor town.
Total Solar Eclipse Countdown
Monday, April 8, 2024,  a total solar eclipse will cross North America, passing over Mexico, the US & Canada. The total solar eclipse will begin over the South Pacific. Weather permitting, the first location in North America that will experience totality is Mexico's Pacific coast around 11:07 a.m. PDT.
Cleveland Times: Partial Begins: 1:59 p.m. Totality Begins: 3:13 p.m. Maximum: 3:15 p.m. Totality Ends: 3:17 p.m.  Partial Ends: 4:29 p.m.